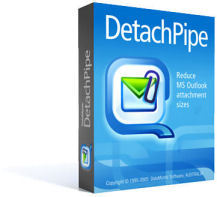 DetachPipe™ FREE - Upload, Save and Remove Email Attachments
DetachPipe for Microsoft Outlook makes it easy to email large files such as pictures, music and video without worrying about the recipient's account size/quota and emails bouncing back, or the technical hassle of copying files to an insecure public site.
The DetachPipe Add On uploads large attachments to www.DetachPipe.com, where they are securely stored. Just like email, uploaded attachments are NEVER public - they are ONLY accessible to the sender and recipients. Just like email, recipients can forward attachments, unless you check the Your Eyes Only™ option, which prevents forwarding. This is ideal for sensitive business documents, and even for developers to send software patches to customers. You can also see how many times an attachment was read, and if it was deleted before being read - very useful for resumes, white papers and proposals.
DetachPipe helps to keep Outlook's PST Personal Folder file very small, making it easier to backup, and making Outlook faster and more reliable.